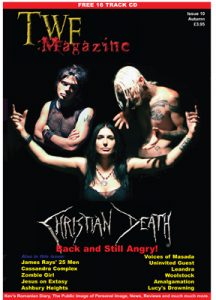 Issue 10 – which was the last one we published – that it took a full year from the previous issue and didn't land until Autumn 2007 was part of the problem.
A touch of old school, we had Christian Death on the cover, alongside interviews with James Ray and Cassandra Complex
Interviews also present with Voices of Masada, Uninvited Guest, Leandra, Zombie Girl, Jesus on Extasy, Ashbury Heights and Lucy's Drowing.
It also had a free CD.
It is available for free download on the back issues tab